____________________ RETRO HEAVY BRIDGE ____________________
A rapid build modular bridge system for large spans and heavy loadings
The RHB bridge:
Available for hire or sale, the Retro Heavy Bridge (RHB) is a pre-engineered modular steel bridge system designed to be delivered to site by road and erected very quickly with little or no on site pre-assembly. Smaller span RHB's can be built and ready for traffic within hours of arrival on site.
RHB units are pinned and bolted together to form bridges of any length with clear spans of up to 51m carrying one or more lanes of traffic. Standard bridges use multiples of 2.5m wide units. Bespoke widths can also be accommodated.
The Retro Heavy Bridge system is suitable for emergency, temporary and permanent bridges on all types of public and private road, from heavily trafficked motorways and urban dual carriageways to construction site accesses and lightly trafficked rural roads.
RHB units are designed in accordance with the Eurocodes to carry loading defined in many different international standards including Eurocode I – III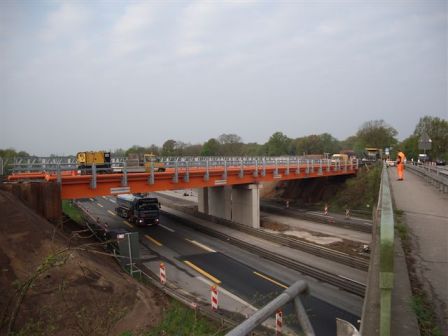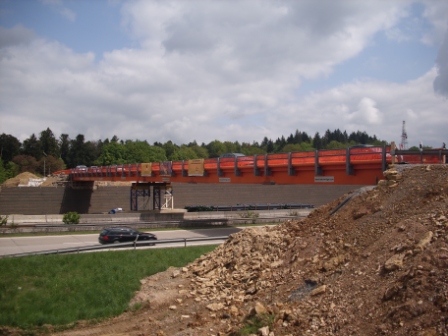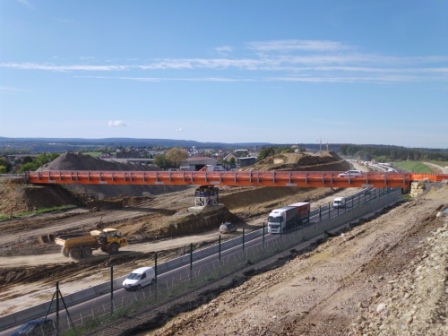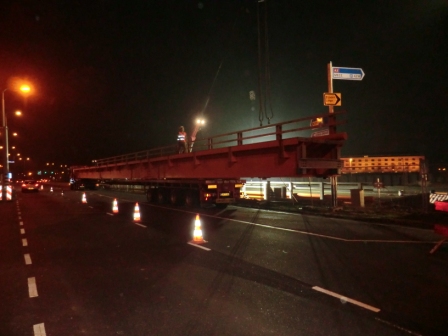 LM1 or LM2; HA and various levels of HB loading to BD37/01; and HS20, HS25 or HL93 loading to AASHTO. Many forms of abnormal load and off-road construction traffic can also be catered for.

The RHB all-steel structure provides a lightweight structural solution making bridge abutments and other substructure works simple and cost effective. The system offers flexibility in the positioning of intermediate piers, with skewed supports easily accommodated.
Epoxy based anti-skid surfacing is factory applied as standard. An additional system can be supplied for environmentally sensitive locations to ensure that longitudinal joints between bridge units are watertight.
Standard holes are provided in the cross members beneath the RHB deck to accommodate ducts up to 110mm in diameter, providing support for telecoms and other essential service diversions.
We offer a full erection and dismantling service to ensure that our bridges are built and taken down quickly to the latest quality, health, safety and environmental standards, providing you with complete peace of mind.
The factory welded structure ensures that RHB decking does do not come loose when trafficked, providing a safe solution and significantly reducing in-use maintenance costs when compared to other modular bridge systems.
The Retro Heavy Bridge represents the latest in modular bridging technology. We are confident that once used, it will become your modular bridge system of choice.
____________________ TECHNICAL DATA ____________________
Loading and Design
– Eurocode I – III; LM1 or LM2.
– HA and 30, 37.5 or 45 units of HB loading to BD37/01.
– HS20, HS25 or HL93 loading to AASHTO.
– Other international loading standards also catered for.
– Abnormal loads and off-road construction traffic.
– Designed in full compliance with the Eurocodes.
– High fatigue life.


Spans, Widths and Depths
– Clear spans from 10.5m to 40,5m.
– Multiple spans also catered for.
– Skewed intermediate supports easily accommodated.
– Standard widths in multiples of 2.5m.
– Other bespoke widths also available.
– 1.313m standard construction depth.


Parapets
– Many international standards catered for.
– Standard solution designed for a horizontal impact load of 100 kN. This can be upgraded to 300 kN at 667mm above deck level if
required.
– Lighter road and pedestrian parapet systems also available.

 

Deck Surfacing
– Factory applied epoxy based anti- skid surfacing provides skid resistance.
– Optional deck waterproofing system and anti-spill side strips.
– Suitable for environmentally sensitive areas and watercourses.
– Site applied waterproofing and asphalt also possible.


Other Attributes
– Available for hire or sale.
– Emergency, temporary or permanent bridges.
– Suitable for use on all types of road from busy motorways to lightly trafficked rural roads.
– Also suitable for temporary railway bridges and construction site accesses.
– Easy to transport to site.
– Minimum on site assembly. Very quick and simple to build.
– Crane-in or launch.
– Simple, cost effective foundations.
– No requirement for post erection abutment construction.
– Decks do not come loose when trafficked.
– Robust kerbs, bespoke bearings and built-in support holes for service ducts.
– Can be combined with our modular intermediate support systems or client built piers for multi-span requirements.
– Suitable for over-bridging weak existing bridge decks.
– Aesthetically pleasing design.
– High quality, safe and environmentally friendly solution.
temporary retro heavy bridge
temporary retro heavy bridge