____________________ RETRO LONGSPAN BRIDGE ____________________
Delivering highway bridges with clear spans up to 85m
Spans up to 85m
Available for hire or sale, the Retro Long Span Bridge (LSB) is a pre-engineered modular steel through-truss bridge system designed to deliver lightweight temporary or permanent road bridges with clear spans of up to 85m.
Versatile and cost effective
Standard roadway widths of 4.5m, 6m, 7.5m and 10.5m are available. Bespoke widths can also be catered for.
The 5m module length and the deck to underside of bridge dimension of just 1m combine with cleverly thought through details to make the Retro Long Span Bridge a versatile and cost effective solution for many different spans and the ideal solution for single, 2 and 3 lane highway bridges. Cantilever footwalks can be fitted to the outer edges of the main structure if required to carry pedestrians in segregated safety.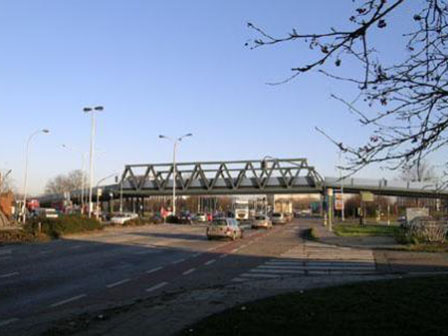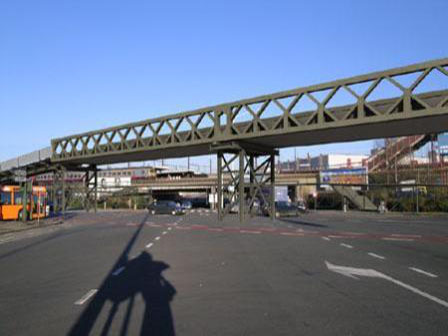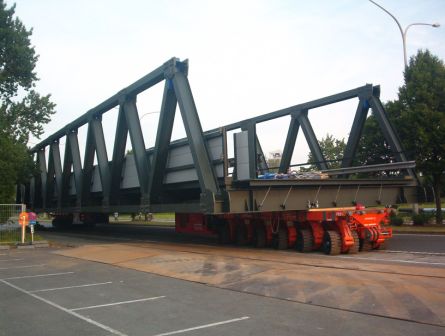 Easy delivery, quick and simple to erect, safe to use

Bridge components can be shipped in standard ISO 20 ft or 40 ft containers and are delivered to site on conventional road going vehicles for rapid assembly and installation into final position by crane or launching.

Steel decking is provided with anti-skid surfacing as standard and vehicle parapets are provided along the edges of the roadway to ensure the safety of bridge users.

Ideal for temporary or permanent use

The Retro Long Span Bridge system is suitable for temporary or permanent us use by public road going or construction site vehicles with a Gross Vehicle Weight of up to 60 tonnes.

It is designed using established in-house Retro Bridge design procedures to carry the loadings in many different international standards including: Eurocode I – III LM2, HA and 30, 37.5 or 45 units of HB loading to BD37/01 and HS20 or HS25 loading to AASHTO. Lighter, lower capacity LSB's are available to provide a cost effective solution for sites with lower loading requirements.

We offer the complete service – design, supply, erection and dismantling

As with all of our bridge systems, we offer a full design, supply, erection and where required dismantling service, ensuring that Retro Long Span Bridges are built to the latest quality, health, safety and environmental standards. In some territories, we can supply site advisors to provide the technical assistance and advice required for our clients to build their bridges using local labour.
____________________ TECHNICAL DATA ____________________
Loading and Design
– Eurocode I-III, LM2; HA and 30, 37.5 and 45 units of HB loading to BD37/01; HS20 or HS25 loading to AASHTO.
– Other international standards catered for.
– Suitable for road going vehicles up to 60 tonnes GVW.
– Off-road construction traffic and abnormal loads catered for.
– Lighter versions also available.


Spans, Width and Depts
– Clear spans of up to 85m in increments of 5m.
– Longer multiple span lengths possible.
– Standard roadway widths of 3m, 4.5m, 6m, 7.5m and 10.5m.
– Bespoke widths also catered for.
– 1m top of deck to underside of truss depth.


Impact protection
– Vehicle parapets to edge of roadway.


Deck Surfacing
– Modular steel deck panels.
– Factory applied epoxy based anti-skid surfacing or 'chequer plate' finish.


Other Attributes
– Available for hire or sale.
– Temporary and permanent bridges.
– Suitable for use on public rural roads and private construction site accesses.
– Easy to ship and transport to site.
– Very quick and simple to build.
– Crane-in or launch.
– Simple, cost effective foundations.
– Robust kerbs and bespoke bearings.
– Can be combined with our modular intermediate support systems or client built piers for multi-span bridge.
– Highly versatile long spanning solution.
– Cable and pipe penetrations in the framework.