____________________ RETRO FOOTBRIDGE ____________________
A compact and flexible solution for pedestrians, cyclists and services
Available for hire or sale, the Retro Footbridge (RFB) is a pre-engineered modular steel footbridge system designed for the rapid erection of emergency, temporary or permanent pedestrian, cyclist or services bridges with single clear spans between 9.144m and 57.912m in increments on 3.048m. The maximum clear span increases to an impressive 67.056m in continuous multi-span configurations.
With a footpath width of 2.5m as standard and 2.75m between the panels, the RFB is suitable for pedestrians, cyclists and services, and can also carry light vehicles of up to 5 tonnes in weight.
Design of the RFB is generally carried out to the Eurocodes, with some component part capacities proven by full scale testing.
A quick build robust solution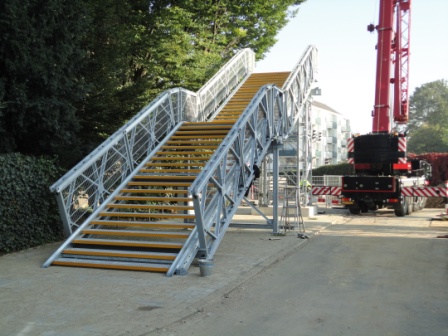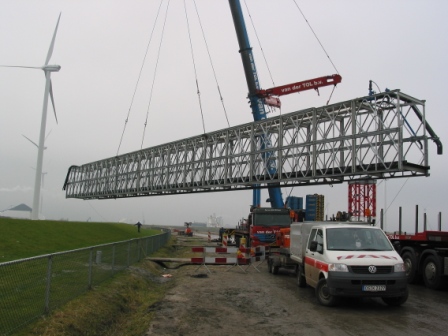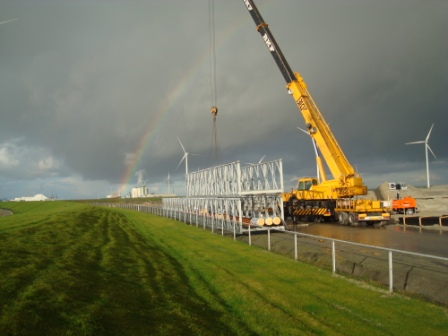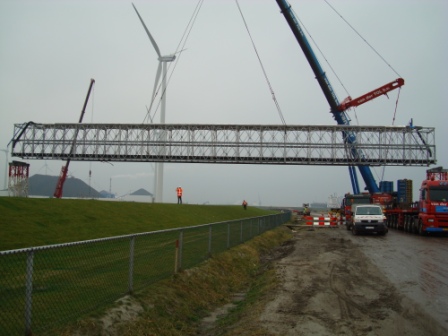 Retro Footbridges can be pre-assembled off site and delivered on conventional transport to minimize site installation times, or shipped in component form for rapid assembly and installation on site.
Components are quickly bolted and pinned together to form a robust structure which users can cross with complete confidence.
As with all of our modular bridge systems, we are happy to provide a complete erection and subsequent dismantling service, or just a site advisor to assist you to build your Retro Footbridge using local labour.
User comfort and safety is our first priority
Retro Footbridges incorporate a number of standard details aimed at ensuring users' comfort and safety.
Decking is supplied complete with a factory applied fine grained epoxy based anti-skid surfacing.
Heavy duty mesh side panels are fixed to the internal faces of the superstructure side panel vertical and diagonal members to ensure complete peace of mind. Solutions using solid side panels are also available.
A minimum shoulder height construction adds to the inherent structural stiffness of the Retro Footbridge's main trusses to ensure a comfortable crossing is delivered for pedestrians and cyclists alike.
An ideal solution for large and small span services support structures
When used by pedestrians or cyclists, space exists below deck level to accommodate ducts of up to 100mm in diameter for services.
When used solely as a services support structure, the Retro Footbridge (RFB) provides ample space for the services and also accommodates installation and maintenance personnel. The RFB is an ideal support structure for many types of services including telecoms, gas and water pipes, and conveyor belt systems.
Whether you need to provide a crossing for pedestrians, cyclists or services, the Retro Footbridge is the solution.
____________________ TECHNICAL DATA ____________________
Loading and Design
– Eurocode I – III, 500 kg/m2 or footbridge loading to BD37/01.
– Can also carry vehicles with GVW up to 5 tonnes and axle weights of up to 1 tonne.
– Many types of services loading can be accommodated.
– Design carried out in accordance with the Eurocodes and using component part capacities derived using full scale testing.


Spans, Widths and Depths
– Single clear spans up to 57.912m.
– Up to 67.056m clear span possible in multi-span continuous constructions.
– Modular, with lengths in multiples of 3.048m.
– Structural efficiency and flexibility achieved using SS, SSR, SD, and SDR truss construction alternatives.
– Standard deck width of 2.5m with overall width of 3.0m.
– Other deck widths also available.
– Overall structural depth between 2.134 m and 4.268m.
– Top of deck to underside of bearing depth from 585mm.


Deck Surfacing
– Factory applied epoxy based fine grained anti-skid surfacing as standard.
– Safe solution for pedestrians and cyclists alike.


Other Attributes
– Available for hire or sale.
– Emergency, temporary or permanent footbridges.
– Easy to transport to site.
– Very quick and simple to build.
– Rapid assembly using simple pinned connections.
– Simple, cost effective foundations.
– No requirement for post erection abutment construction.
– Hot dipped galvanized shoulder high truss with heavy duty mesh panels
– Space for service ducts below deck level.
– Can be combined with our modular support and access stair systems.
– Ideal for pedestrian, cyclist and services support structures alike.
– High quality, safe and environmentally friendly solution.
retro footbridge pedestrian bridge maar daarnaast ook hulpbruggen behilfsbrücken pontons roro-facilities. En andere oplossingen zowel temporary bridges als heavy girder bridge. Voldoen aan alle normen van NEN als ISO.